Ajay Manchandia MD, MS
Long Beach Eye Doctor
Long Beach Pediatric Ophthalmologist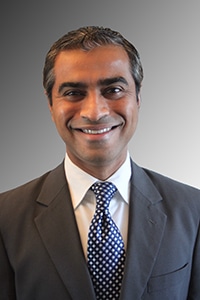 Specialties
Comprehensive Ophthalmology
Adult Strabismus (crossed eyes)
Pediatric Strabismus (crossed eyes)
Amblyopia (lazy eye)
Pediatric Cataract Surgery
Ptosis (droopy eye) Surgery
Adjustable Sutures
Blocked Tear Ducts
Double vision (diplopia)
Therapeutic Laser Procedures
Chalazion/Stye Removal
Myopia (nearsighted) Treatment
Failed Vision Screenings
Conjunctivitis (pink eye)
Retinopathy of Prematurity
Blepharitis
Vision Therapy
Dermoid Cyst Surgery
Dr. Manchandia grew up in Southern California and graduated with honors from UC Berkeley with a degree in Molecular Biology. He continued his training at Georgetown University, receiving his Masters in Physiology. He then went onto medical school at Drexel University College of Medicine where he was elected to the prestigious Alpha Omega Alpha (AOA) honor medical society. He went on to complete his internship in Internal Medicine at the University of Pennsylvania Hospital and completed his ophthalmology residency at Temple University. He then moved back to Southern California for additional training as a pediatric ophthalmologist at the world-renowned Stein Eye Institute, UCLA.
Dr. Manchandia is board-certified by the American Academy of Ophthalmology and he is a member of the American Association for Pediatric Ophthalmology and Strabismus. He specializes in adult ophthalmology, pediatric ophthalmology, cataract surgery, and strabismus. His research interests include myopia control, sports vision performance, cranial nerve palsies, strabismus, and eye movement disorders. While at UCLA, he was the recipient of the Clinical Fellow Research Award.
Dr Manchandia practiced in Long Beach from 2013-2019 and was elected Chairman of the Department of Ophthalmology at Long Beach Memorial Medical Center from 2017-2019. He then pursued one year of academic medicine at Children's Hospital Orange County. His patients describe him as thorough, personable, and compassionate and he is excited to return to the Long Beach area and to continue to provide patient-centric eye care to children and adults.
He is also passionate about philanthropic work and is an active member of SEE International and is the medical director of Volunteer Eye Resources International. He has worked with these organizations to plan and lead mission trips all over the globe including Southeast Asia, Central America, and South America providing pediatric ophthalmology care to underserved communities in these regions.
Dr. Manchandia lives with his wife and their two young sons in Seal Beach. He is an avid tennis player, and his hobbies include astronomy, photography, skiing, hiking, and world travel.