Skip to main menu
Skip to main content
Skip to footer
Randall Nguyen, MD
Long Beach Eye Doctor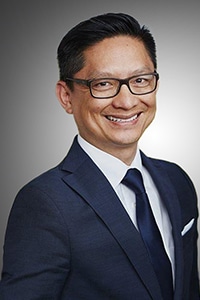 Dr. Randall Nguyen is a native of Southern California. He graduated in three years with Magna Cum Laude honors in biology from the University of California at Irvine. He was then awarded his medical degree from the highly prestigious Johns Hopkins University School of Medicine.
While attending Johns Hopkins, he researched at the internationally respected Wilmer Eye Institute. After obtaining his medical degree, Dr. Nguyen returned to his family and home in California. He completed his medical internship at the University of California, Los Angeles – St. Mary Medical Center. Dr. Nguyen was recognized as the Medical Intern of the Year for providing excellent comprehensive care for his patients, excelling as a clinician, and being attentive to his colleagues and staff.
Dr. Nguyen then completed his ophthalmology residency at the University of Southern California Doheny Eye Center. Inspired by the sight-saving role of retinal surgery and fascinated by the ever-evolving technological advances of the specialty, Dr. Nguyen sought and completed his medical and surgical retina fellowship at the University of British Columbia Vancouver Eye Center. He trained with five other retinal surgeons and benefited from one of the busiest and highest surgical volume programs in both Canada and the United States.
Dr. Nguyen is now a physician at Eye Physicians of Long Beach where his clinical expertise includes complex retinal detachment repair, diabetic retinopathy, macular holes, management of macular degeneration, and other retinal disorders.
⇧