If you are not a candidate for LASIK or decide that LASIK is not right for you at this time, our experienced Opticians will assist you with your frame selection to achieve the most attractive and comfortable fit of your eyewear. During your selection, they can discuss the latest in lens design, materials and treatments available to fulfill your eyewear needs. Lens designs such as Single Vision, Bifocal, Trifocal, Progressives, Computer and Polarized lenses are available in a wide range of materials from Hard Resin (Plastic), to High Index and Polycarbonate for the best in lightweight comfort. Optional lens treatments include Anti-Reflective Coatings for computer and nighttime glare, Scratch Protection, Transitions and U.V. Protection.
Our dispensary also offers complimentary frame adjustments and cleaning of your eyewear.
Lens Treatments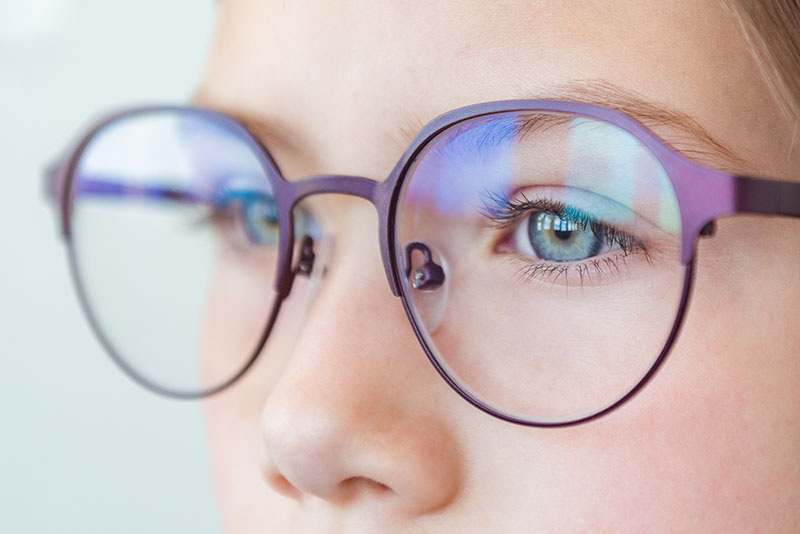 Transitions lenses are photochromic lenses. These lenses change from clear to dark in the presence of ultraviolet (UV) radiation, such as when exposed to sunlight the darkness of the lens varies with the amount of sunlight. Indoors and at night, Transitions lenses are as clear as regular clear lenses, and enhance the quality of vision by reducing glare, minimizing eye strain and fatigue, and improving contrast in all light conditions. There is evidence that UV light may harm your eyes but, Transitions lenses block UVA and UVB radiation, providing UV400 protection, helping to preserve your long-term eye health. The darkness of the lens varies with the amount of sunlight. Available in single vision and multi-focal lenses, as well as in a variety of lens materials custom designed for your prescription. Although the lenses do not get as dark as regular sunglasses in the car, they provide as excellent alternative to a separate pair of sunglasses.
Anti-Reflective Coating – helps reduce glare and halos caused by computers, fluorescent lighting and low-level lighting conditions such as night driving. Reduction of glare allows for better visual acuity and overall appearance of the lenses. We recommend Crizal Anti-Reflective Coatings.
Polarized Lenses – eliminate glare and reflections caused by road surfaces or the sun, on flat surfaces such as lakes or, snow and in certain weather conditions such as fog and rain. Polarized lenses are highly recommended for patients who enjoy outdoor activities, as well as those who have photosensitive eyes or have had LASIK surgery. Anti-reflective coatings are also available to ensure better reduction of glare and reflections.
Scratch Coatings – no lens is absolutely scratch resistant, but a scratch coating will help protect your investment in your eyewear. A clear coating applied to the front and back surface of the lens should be considered for all eyeglass lenses.
Ultraviolet Treatment – a clear coating that protects your eyes from harmful UV rays. Cataracts, retinal damage, and other eye problems can be caused from overexposure to these rays, but an Ultraviolet coating offers 100% UVA/UVB protection, ensuring an inexpensive way of protecting your eyes.
Lens Materials
Polycarbonate – offers durability, 100% UVA/UVB protection and safety in a lightweight material available in single and multi-focal lenses. This is a perfect choice for children under 18 or anyone with an active lifestyle who desires lightweight and safety in their lens material.
Hi-Index – Thinner than plastic lenses and sometimes lighter, Hi-Index lenses are a terrific alternative to Polycarbonate. Available in single and multi-focal lenses, the thinness of the lens is dependent on prescription and lens availability.