Cindy Ung, MD
Long Beach Eye Doctor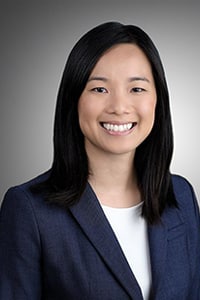 Dr. Cindy Ung completed her undergraduate studies at Harvard College and received her medical degree from Stanford University School of Medicine. She completed her medical internship at Santa Clara Valley Medical Center in San Jose, CA, and completed her residency at Harvard Medical School / Massachusetts Eye and Ear in Boston, MA.
After residency, Dr. Ung remained at Harvard Medical School to complete a two-year vitreoretinal surgery fellowship where she served as chief fellow. During fellowship, she was the recipient of the VitreoRetinal Surgery Foundation Research Award and the Gragoudas Prize for her clinical research.
Dr. Ung specializes in macular degeneration, diabetic retinopathy, retinal vein occlusions, epiretinal membranes, macular holes, vitreomacular traction, primary and complex retinal detachments, ocular trauma, secondary intraocular lens placement, amongst other conditions. She is passionate about working closely with patients to restore and preserve vision with individualized treatment plans.
Outside of work, Dr. Ung enjoys playing tennis, traveling, and spending time with her husband and son.