Skip to main menu
Skip to main content
Skip to footer
Maryam Mirzaei, OD
Long Beach Eye Doctor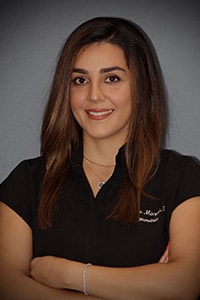 Languages
Maryam Mirzaei OD, is an optometrist practicing in Southern California. She received her B.S. degree in Neuroscience with honors from University of California Los Angeles (UCLA).
While at UCLA, she worked as a clinical research lab intern at Jules Stein Eye Institute where she discovered her passion and interest in eye care. Dr. Mirzaei pursued her passion by obtaining her Doctorate in Optometry from Southern California College of Optometry with Magna Cum Laude honors. She received several scholarship awards during her academic years at Optometry School.
Dr. Mirzaei completed her clinical training at various multi-specialty ophthalmology and optometry practices where she gained extensive knowledge and experience in primary eye care, contact lens fitting, myopia management, management of ocular disease and dry eyes, as well as cataract and refractive surgery co-management.
Dr. Mirzaei is committed to provide quality care for her patients of all ages and backgrounds.
While at home, she enjoys spending time with her husband and daughter, cooking and traveling.
⇧