Vivity Lens
The cataract surgeons from Eye Physicians at Long Beach are excited to offer a new advancement in premium intraocular lenses. The Alcon AcrySof® IQ Vivity® lens enables high-quality distance and intermediate vision, and functional close-up vision thanks to new technology.
How is Vivity Different from Other Bifocal or Trifocal Lens Options?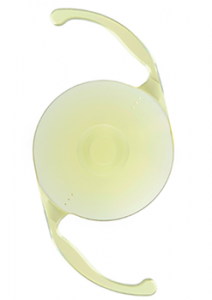 Vivity uses a new, non-diffractive technology called X-Wave™. Alcon's proprietary non-diffractive technology uses all available light to create a continuous, extended range of vision.
Other diffractive multifocal lenses split the wavefront into multiple separate focal points. The X-Wave technology offers protection against damaging UV rays and filters blue light rays.
Patients with other multifocal lenses often complain about visual disturbances such as halos, starbursts, and glare. Some patients opt for monofocal lenses because they have a much lower rate of these post-cataract side effects.
Patients with the Vivity lens are reporting lower visual disturbances. These results are more like those seen with monofocal lenses. This is a distinct advantage for patients looking to drive at night.
How Can I Be Confident that the Vivity Lens is Safe?
Alcon is a well-known and highly reputable manufacturer of intraocular lenses as well as other vision correction products. The Alcon Vivity lens became FDA approved in the spring of 2020.
This was after the evaluation of two successful clinical trials. In addition, ophthalmologists in Australia and western Europe have reported excellent results and high patient satisfaction with Vivity.
Will I Be Able to Give Up My Glasses Altogether with a Vivity lens?
Not necessarily. Most patients achieve excellent visual acuity, meaning their vision is sharper for distance and intermediate vision in both bright and dim lighting.
This is especially important for those that spend a lot of time in front of computers. You may still need to use reading glasses for some close-up activities.
Many patients with Vivity lenses are able to check a message on their smartphone or read a label at the store without glasses. They may need their glasses to read a newspaper or a prescription label.
How Will Vivity Affect my Astigmatism?
The Vivity lens is available in a toric IOL model so that astigmatism can be corrected at the time of cataract surgery.
Can Vivity Be Used if I Have Another Eye Condition?
Some multifocal lenses don't work well unless the patient has eyes that are in excellent shape. This means that they have no issues like dry eye syndrome.
So far, ophthalmologists are reporting that they have used Vivity with success in patients with glaucoma, as well as patients with some macular disorders. Your Long Beach eye doctor will evaluate whether you are a good candidate for a Vivity IOL.
Will Medicare Pay for a Vivity Lens?
Unfortunately, Medicare and most other insurance will only pay for cataract surgery with a monovision lens. This means that you need to choose correction for either distance or close-up vision.
You will likely be dependent on glasses for other vision needs. If you are interested in a premium lens like Vivity, your insurance will pay for the procedure. You will need to pay out-of-pocket for the special lens.
Wondering if the Vivity lens could be right for you when you have cataract surgery? The only way to know for sure is to schedule an appointment at Eye Physicians of Long Beach today!